HA! I'm back. Thought I would forget for another couple of weeks, didn't you. There is no escape.
This next jacket was an adorable black jacket that I managed not to photograph before I cut it. It's 100% cotton corduroy, with long rows of little metal clamps in the front. The best part about this one is that the armholes on the sleeves were properly small. The second best part was that it only cost a dollar. Thrift stores are your friends, especially if they have a dollar rack. Anyway, I cut it to the perfect length, and then decided I wanted to put a waistband on it. So I used the extra fabric to do that, and it ended up a little long and looks too similar to a bomber-jacket for my taste, but I didn't really have time to fiddle with it. It ended up turning out pretty well.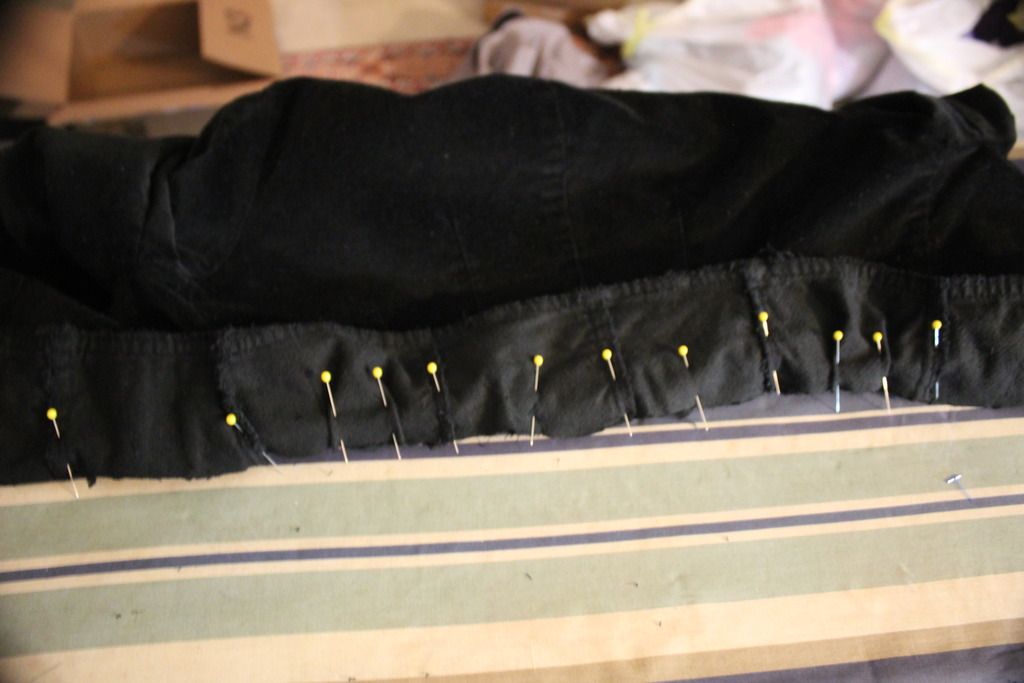 No, it isn't cut two inches higher on one side, it was just hanging weird.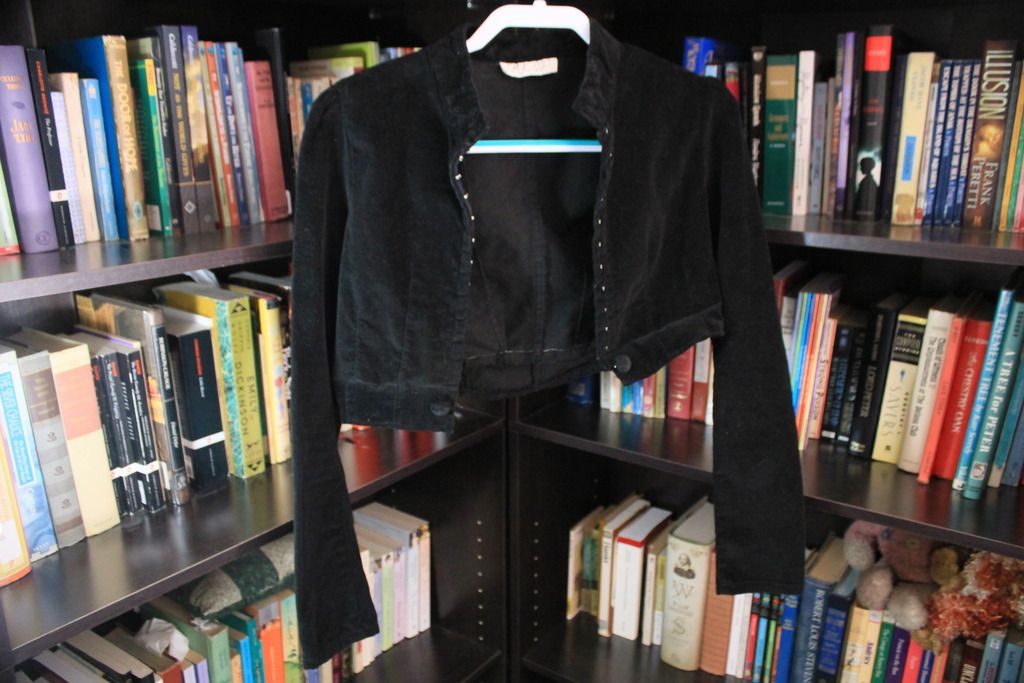 I added buttons to the bottom and used a ribbon to hold them together. I can (with some difficulty) get the jacket fastened all the way, but it's a bit tighter on the girl who is actually going to be wearing it, so we decided to only fasten the bottom (that was actually a style at the time).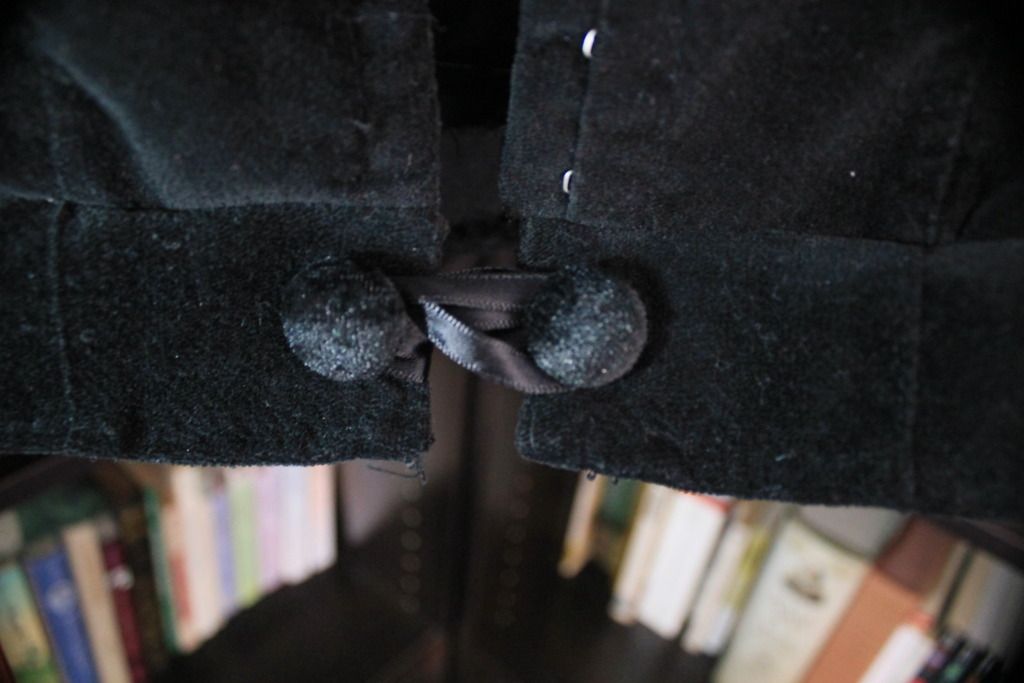 I also did a bit of black embroidery on the collar (I adore monochrome embroidery) and I must say it was quite a pain. The thread just hid itself in between the rows of the corduroy and it was impossible to see where I had already placed a stitches. You also can't see it from stage...but I like it anyway. I also put a tag in the back on a whim, and you know know my initials so you are welcome to my identity.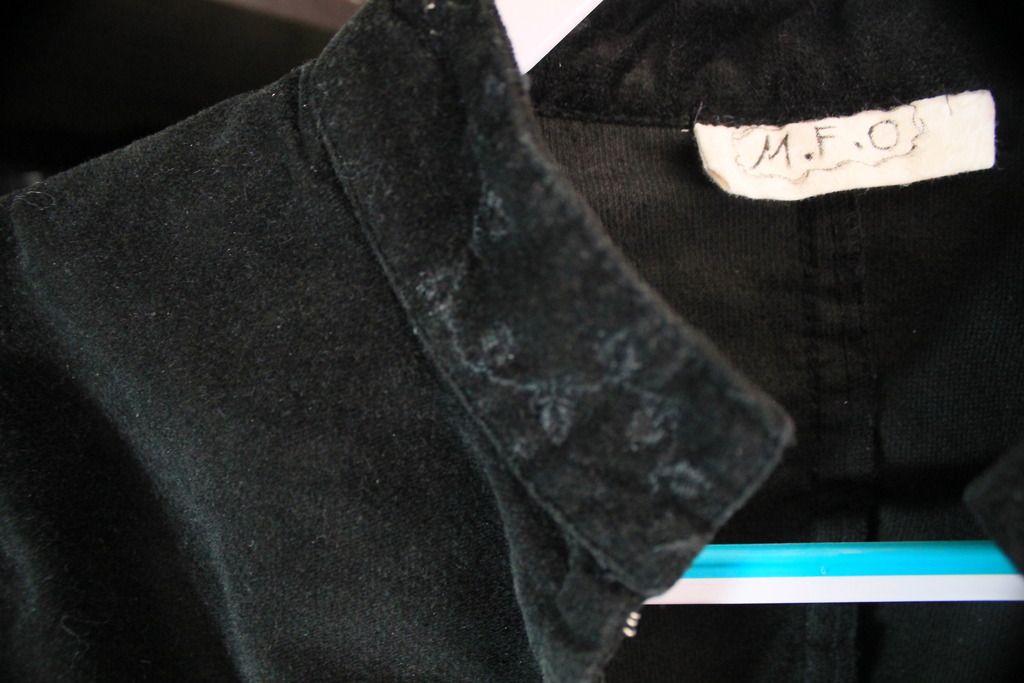 Tada. Ignore my not-so-regency hair getting in the way. I took these pictures before I had QUITE finished, so you will notice a pin showing on the waistband. I much prefer how it looks fastened all the way, but it's alright open. You may say hello to the bear in the bookshelf, he couldn't be stopped.
I'm really quite fond of this jacket.

Come chat about The Silmarillion with me: